Autumn '15 Tour Diary: week #1
We have hardly recovered from the Edinburgh Fringe madness and we're back on the road with Plan B for Utopia!
We kick-started our Autumn '15 Tour with two performances at The Studio from the Edinburgh Festival Theatre on 15th of September. More than 200 people (mostly young adults) had the opportunity to see the show for free, thanks to EFT's Learning and Participation programme (which last year alone engaged with 21,000 people!). The performances were complemented with a workshop for the last year students of Edinburgh College and a Continuing Professional Development session for teachers focused on getting boys interested in dance.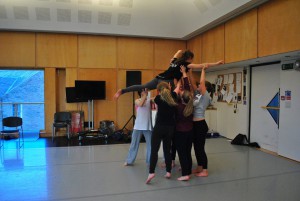 As part of our Creative Learning programme, we also delivered a series of workshops, integrated sessions and masterclasses in Dundee, visiting the dance and acting students of Scottish School of Contemporary Dance and Dundee & Angus College, and Scottish Dance Theatre's Youth Company and Young Creatives groups.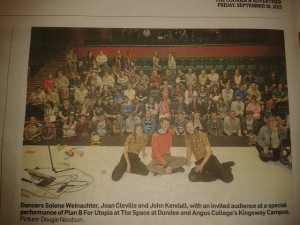 On Thursday 17th of September we performed at The Space, home of Scottish School of Contemporary Dance, where I am an Associate Artist. This was a special performance organised by Dundee Dance Partnership for young members of the community in Dundee and Angus, who have been engaging with dance and the arts thanks to the Cashback for Creativity programme. This programme, supported by Creative Scotland and the Scottish Government, re-invests money coming from criminal activities back into the communities by giving access to the arts to young people.
Finally, we performed for our home-audience at Dundee Rep's Bonar Hall on Friday 18th. The auditorium was packed to see our official debut in Dundee and BSL interpreter Lesley Crerar joined us specially for this performance. There will be one more BSL signed show this tour on Wednesday 11th November at the Royal Conservatoire of Scotland in Glasgow, this time we will be joined by Yvonne Strain. There are also six performance dates across Scotland and Leeds, check our What's On section for more details.