Access

'Equality and diversity are an integral part of my artistic vision and have played a very important role in the development of my choreographic practice. My works aim to communicate ideas clearly and accessibly, as well as sharing questions about the world we all live in. For me, the key to accessibility lies in the willingness to achieve honest, meaningful communication, and ensure that people from different backgrounds, ages and abilities can contribute to the conversation. I hope that through our work, otherness and difference are not only welcome but celebrated.'
Joan Clevillé
Important Information regarding Audio Description of Plan B for Utopia at the Edinburgh Festival Fringe on 22 Aug
Audio Description is a live narration of what's happening on stage that can be accessed by using a headset during the performance.  It allows anyone with a visual impairment (VI) to access dance by rendering movement qualities, emotional nuances, and dramatic actions into spoken words.
Although Audio Description is targeted at VI audiences as an access tool, we would like to invite any venue promoters, professional delegates and audience members with an interest in Audio Description to experience it first-hand during Tuesday's performance.
All you need to access Audio Description is to download and install the free Sennheiser Mobile Connect app here: iOS App / Android App and bring your own set of headphones to connect to your smart phone. We recommend you download the app in advance of the performance.   Once you have downloaded and installed the app, please follow these instructions when you arrive at the venue:
Connecting to the Sennheiser Mobile Connect System
Below are step-by-step instructions for using the Sennheiser Mobile Connect system.
With the app downloaded you will need to do the following:
● Go into your wifi settings and connect to the "Mobile Connect" network.
● Open the app, at this point if you have successfully connected you will see a tick in
the top right hand corner. If a red cross displays, please close the app, check the
connection and reopen it.
● Select the "Personal Hearing" option and tap "Activate".
● Select the "Test Audio" channel to make sure that your device is working and
receiving a signal. You can adjust the sound by selecting "Adjust" and moving the
circle around the screen until the tone is to your liking.
● Once happy with the sound select the "Audio Description" channel.
● You are now ready to go.
The Pleasance team will be on hand to support in downloading and setting up the app and provide spare sets of headphones. Please meet them at Pleasance 2, 30min before the start of the show.
Access at our Venues
All of our performance venues are accessible to wheelchairs, please visit the venue websites for more details on accessibility.  If you have any concerns please contact us.


Audio Described Performances and Touch Tours
Audio Description is a narration of what's happening on stage that can be accessed by using a wireless headset during the performance, for anyone with a visual impairment.  Audio Description is usually narrated live and is often accompanied by a Touch Tour where visually impaired audience members can come on to stage, feel the costumes, props and set and speak to choreographer Joan Clevillé and the dancers ahead of the performance.  We work with experienced Audio Describer Emma Jane McHenry and aim to have at least one Audio Described performance per tour. The next one will be for Plan B for Utopia at Pleasance Courtyard (Pleasance 2) on Tue 22 Aug. Click here to book.
We also tour with Braille and Large Print versions of our programmes (available to download HERE), and Audio programmes can be picked up from all venues.  You can also listen to the Plan B for Utopia programme online by clicking this link and scrolling to the bottom of the page.
BSL Performances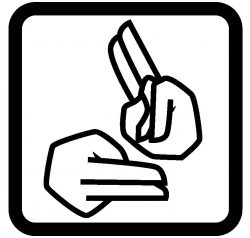 BSL interpreted performances have a British Sign Language interpreter on stage with the dancers during the show. Because BSL users have their own tastes and needs, we work with a range of approaches to BSL interpretation: sometimes the interpreter will remain on the edge of the stage and interpret what is being said or heard without interfering in the action (BSL Interpretation), and sometimes she will be fully integrated in the dramatic action on stage, interacting with the rest of the performers and adding an extra layer of meaning to the work (BSL Integration).
Depending on the venue, we work closely with interpreters Yvonne Strain and Lesley Crerar or an interpreter in the local area, and aim to have at least one interpreted performance per tour.
On request, we can also provide written copies of the script of Plan B for Utopia for audiences with a hearing impairment. From mid 2017 we will also have BSL interpreted information for each work available on the website.
Our next BSL Interpreted performances are:
The North at Dance Base on Sat 12 Aug, click here to book.
and
Plan B for Utopia at Pleasance Courtyard (Pleasance 2) on Thu 24 Aug, click here to book.
Re
laxed Performances
Relaxed performances are perfect for anyone who prefers a more relaxed environment for watching theatre and are especially recommend for people with Autism and sensory, communication, and learning difficulties. Music and noise volumes are reduced throughout the show, and a gentle light level is kept in the auditorium. Audience members are not discouraged from vocalising their own feelings and reactions during the performance, and they have the opportunity to meet the dancers up close after the show.
Our next Relaxed Performances will are:
The North at Dance Base on Sun 13 Aug, click here to book.
and
Plan B for Utopia at Pleasance Courtyard (Pleasance 2) on Sun 27 Aug, click here to book.
Access in workshops
When working with young people or vulnerable adults we take things very seriously. All creative learning sessions are delivered by Joan Clevillé and/or a company dancer, all of whom have experience of working with D/deaf and disabled people and hold valid Disclosure certificates.  We aim to have all our workshops in accessible spaces and can tailor workshops to the specific needs of any group.
Other Resources
We are happy to provide any information that might help you to attend and enjoy our performances.  If you have any questions, please email access@joanclevilledance.com, or call/text Vicky on 07502225825.   We advertise all our accessible performances in Scotland on the Access Scottish Theatre website which has information about accessible performances across the country.