Celebrating 2016 at Joan Clevillé Dance
Seasons Greetings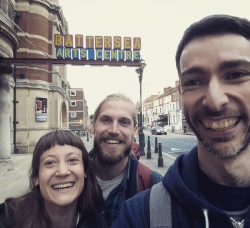 As the year comes to an end, we'd like to take a moment to look back at some of what we have achieved at Joan Clevillé Dance, and to look forward to what's ahead in the New Year.
Although some of the events in 2016 have left us with a general sense of uncertainty about the future, our endeavour in 2017 will be to continue to broaden perspectives and open dialogues, to examine ourselves with honesty and integrity, and to re-find a sense of joy and hope through creativity and imagination.
We invite you to share the journey with us.
In 2016, with the support of Creative Scotland and Arts Council England, we have continued to tour Plan B for Utopia, visiting a whole range of venues across the length and breadth of the UK and performing for over 2,000 people.
We were also honoured to present the piece at two of the most prestigious international dance showcases in Europe: international tanzmesse nrw (Düsseldorf) and British Dance Edition, as well as performing to audiences in Italy and Poland. Closer to home, we presented the piece in iconic venues like Glasgow's Tramway, or Battersea Arts Centre and The Place in London.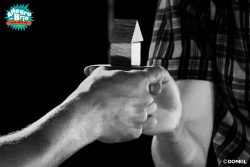 To complement our performances in rural venues (and thanks to the support of the Rural Touring Dance Initiative), we developed an Interactive Installation in collaboration with Dundee-based artist Theresa Lynn.
The autumn tour also saw the debut of choreographer Joan Clevillé as a performer in Plan B for Utopia. Joan and the dancers were also busy facilitating creative sessions, classes, and masterclasses for over 800 people, and creating three short works for Fusion Youth Dance Company in Aberdeen, Somerset Youth Dance Company and participants from disadvantaged backgrounds in the city of Bytom (Poland).
We were also proud to add Audio Description for visually impaired audiences to our existing offer of BSL interpretation and integration. The company now tours with large print, braille and audio programmes and scripts.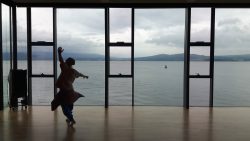 Plan B for Utopia will be again on the road in Spring 2017, check out the first venues on the right and keep an eye on our website and social media for updates on new dates.
This year we also conducted a series of residencies for the research and development of the company's new work, The North, which will be co-commissioned by Tramway and The Place. More news about the work's premiere in Spring 2017 to follow soon. In the meantime, we leave you with a little Christmas surprise, an exclusive teaser with footage from our research time in the studio, enjoy and Season's Greetings from all at Joan Clevillé Dance!
The North – Teaser from Joan Cleville on Vimeo.